---
Intersect Development Group Moving Forward on Huntsville 565 Logistics Project
September 15, 2020
---
New $35 Million Investment Will Support Over 300 Jobs
Contact: Brian Walsh
[email protected]
Today, Intersect Development Group ("Intersect") released an initial rendering of its planned Huntsville 565 Logistics project and announced it has closed on the 47 acres of land that will host three newly constructed buildings resulting in a 400,000 square foot logistics park.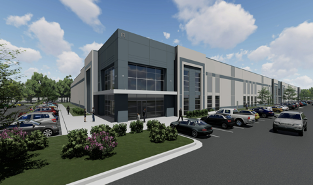 With a groundbreaking planned for this Fall, and the first phase of 144,500 square feet scheduled to be completed in 2021, the Huntsville 565 Logistics park expects to be home to over 300 workers and represents an investment of over $35,000,000 into the Huntsville area. The 32' clear, Concrete tilt-up, Class "A" industrial facilities are designed to meet the needs of the growing e-commerce industry and local logistical / service requirements. Notably, the site location is adjacent to a number of other corporate development projects including GE Aviation, a Target Distribution Center, a Polaris Manufacturing Facility and the new Toyota / Mazda $2.3B Manufacturing Facility that is under construction.
"This is an exciting time for the Huntsville business community and its workers who will benefit from this new investment. With the closing process completed, we look forward to beginning construction quickly and developing this new Class 'A' business park that will support hundreds of jobs in the local community," said Scott Brown, a Founding Partner with Intersect.
This is one of multiple planned developments by Intersect for 2020. In addition to Huntsville 565 Logistics park, Intersect is also moving forward with a new project in Greensboro, NC for over 475,200 square feet and is looking at several other sites throughout the growth corridors of the southeast.
Intersect Development Group was founded in Atlanta, Georgia in 2019. Its principals have over 100 years combined in the development business and over 15 million square feet of development.
###
---
---